Introduction
Before you can send your first inbox placement test, there are a few steps that you need to complete. This guide will cover the initial setup of your first test, including sending to and reading your test results.
To send your first inbox placement test, you will need to:
Create a seed list

Send to the seed list
Once you have sent to the seed list, your results should appear within a few minutes on the inbox placement overview page.
Seed List Creation
Before you can create any new inbox placement tests, you must first create a seed list. Seed lists are an organizational tool to help you segment your inbox placement test results. You can create a single seed list to use for all tests, or you can create multiple to separate different types of content.
Creating a seed list can be initiated from the inbox placement home screen with the "Create new seed list" button in the top right.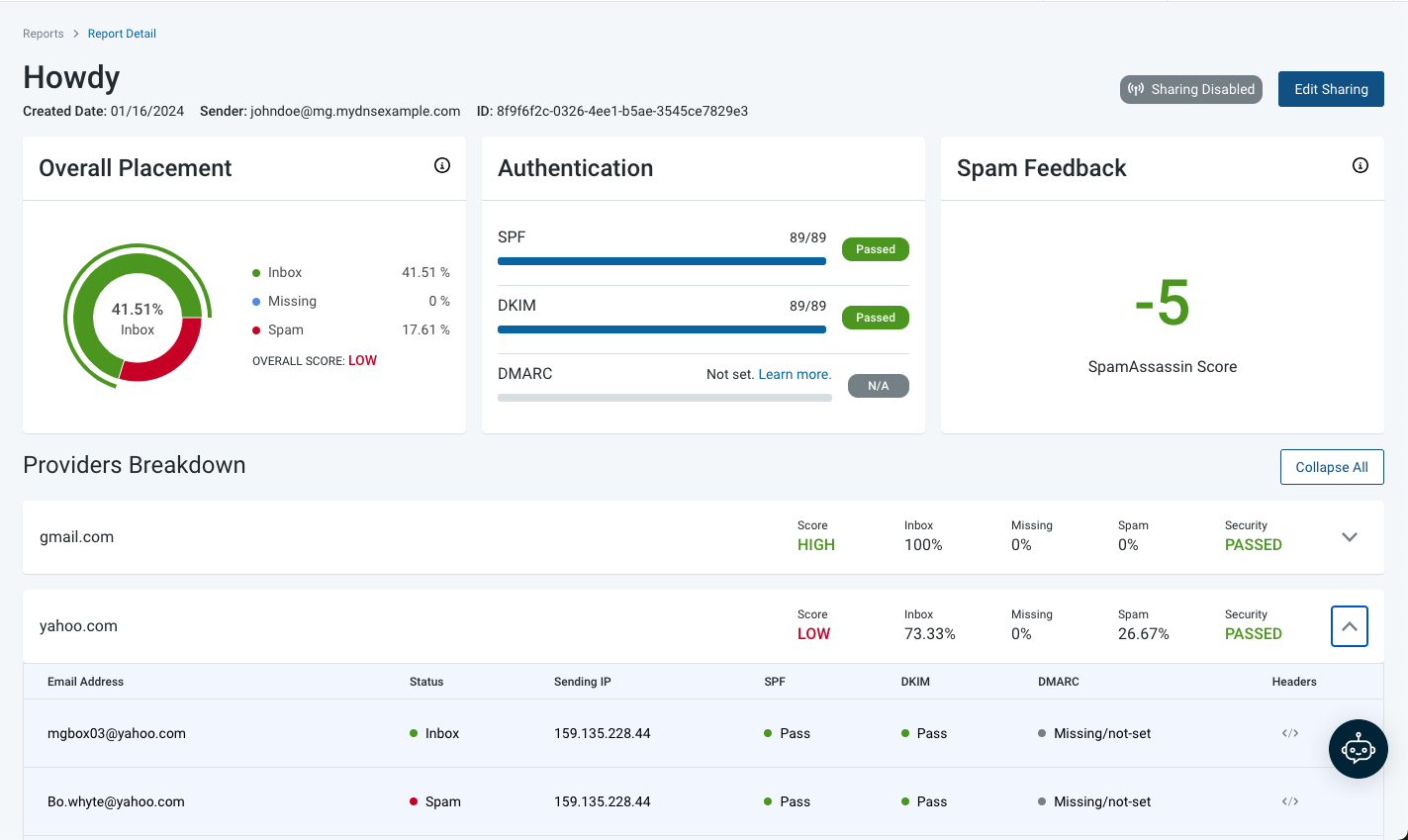 Once on the seed list creation page, you will need to fill out all of the fields before you can generate a seed list.
All of your sending domains should be added to the sending domain list on the right side of the screen. Make sure to add the exact domains/subdomains that you plan on sending from.

Name the seed list. The name must be unique from previously created seed list names on your account.

Generate the seed list. If you've already added your sending domains and named the seed list, you should see a list of email addresses after you click this button. Note, the first address in the list is a unique ID email address for your seed list and account. We will create a new inbox placement test anytime we receive an email to this address from one of your sending domains.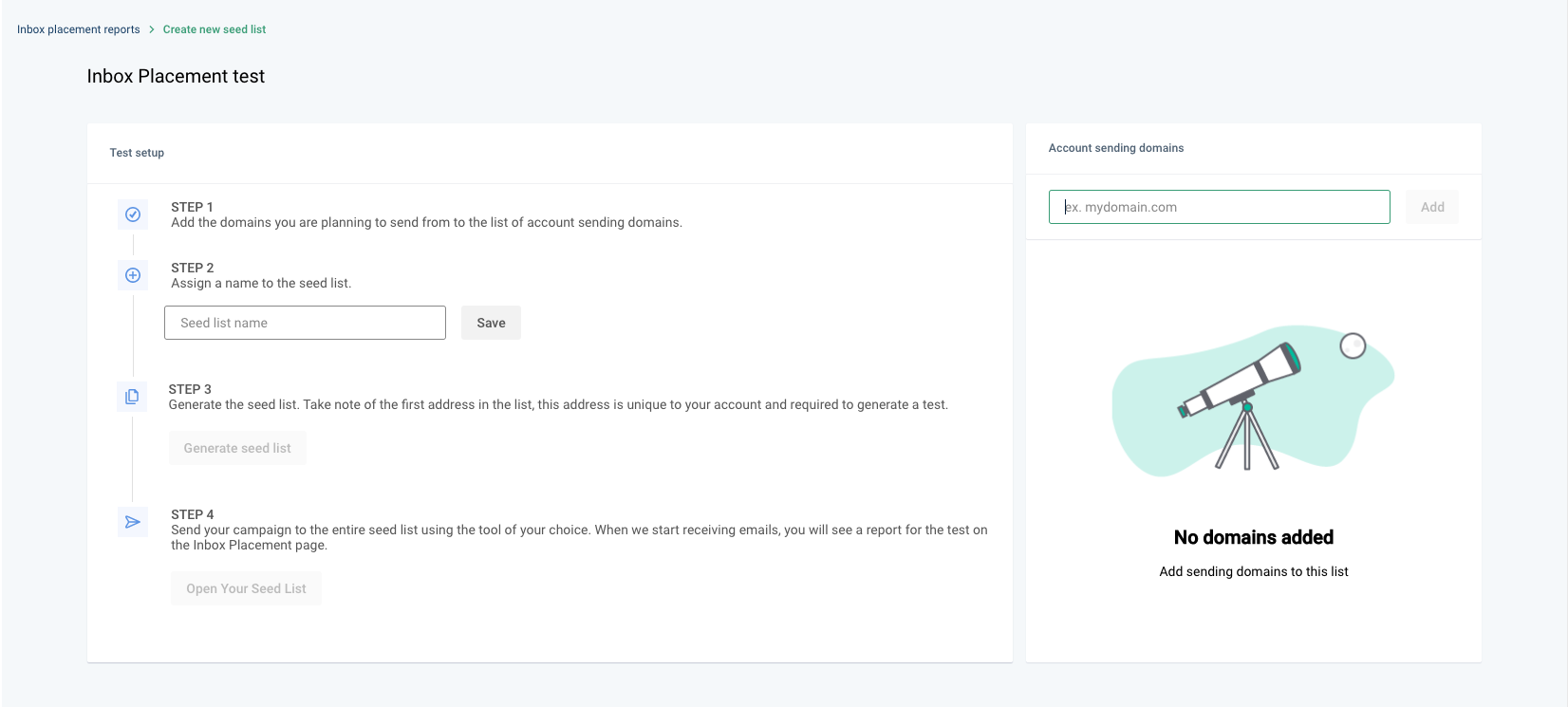 Once your seed list has been generated, it is saved. You can copy your seed list and leave this page. The seed list may either be copied to your clipboard or downloaded as a CSV. You will need your seed list in the next step to send to.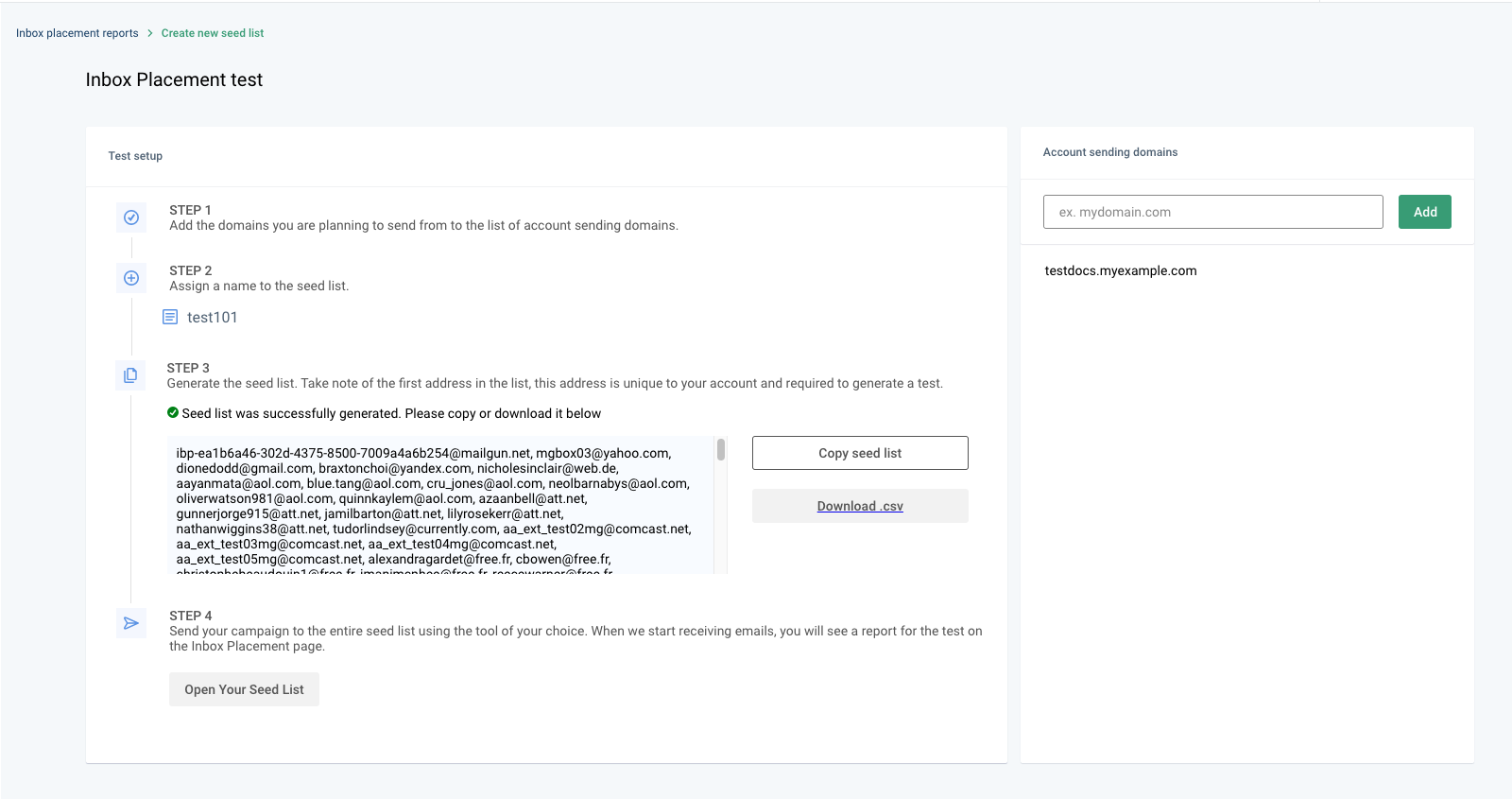 Sending to your seed list
Using the seed list you created and copied in the previous section, send to the seed list using your ESP of choice. When sending, please ensure you send from a domain that has been listed as a sending domain on the seed list. If you want to send from another domain, you can navigate to your seed lists and modify the sending domains on a seed list.
Receiving the Results
If everything has been done correctly, you should see results in a few minutes on the overview page. It's best to make sure your emails have been fully sent from your ESP before troubleshooting any issues.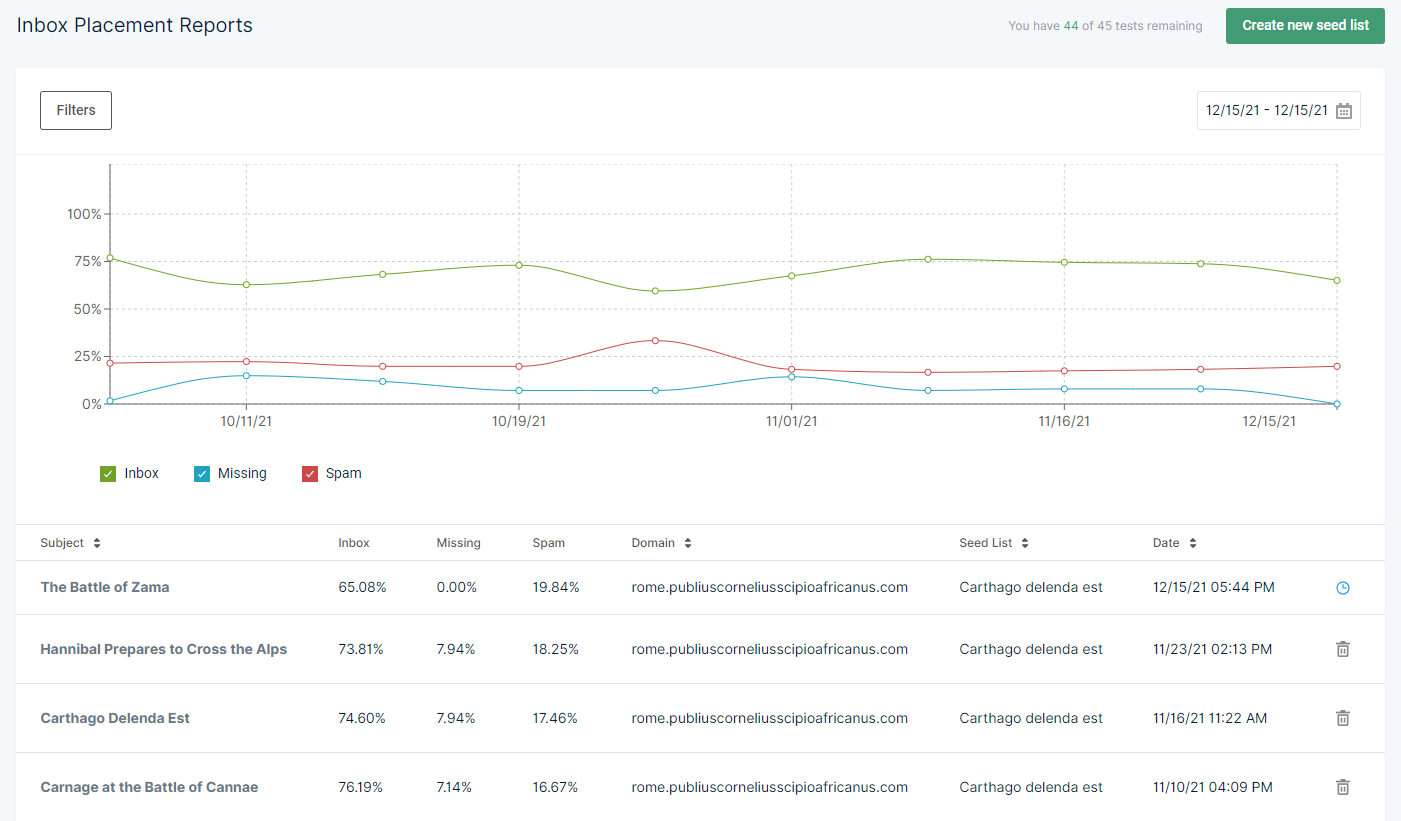 If you do not see results after sending all emails from your ESP, check to make sure that the domain you sent from is listed on your seed lists sending domains. If the domains is not on the list, you will need to add it, and resend the test.
If your sending domains have been set up correctly, make sure you sent the test to the entire seed list, including the unique ID address. We will not generate results if we do not receive an email from your sending domains to your seed list unique ID email address.
Once you see results, you can open them to view more detail, including Gmail tab placement, sending IPs, and inbox/missing/spam rates. Emails will only be classified as missing after we don't receive them for 24 hours.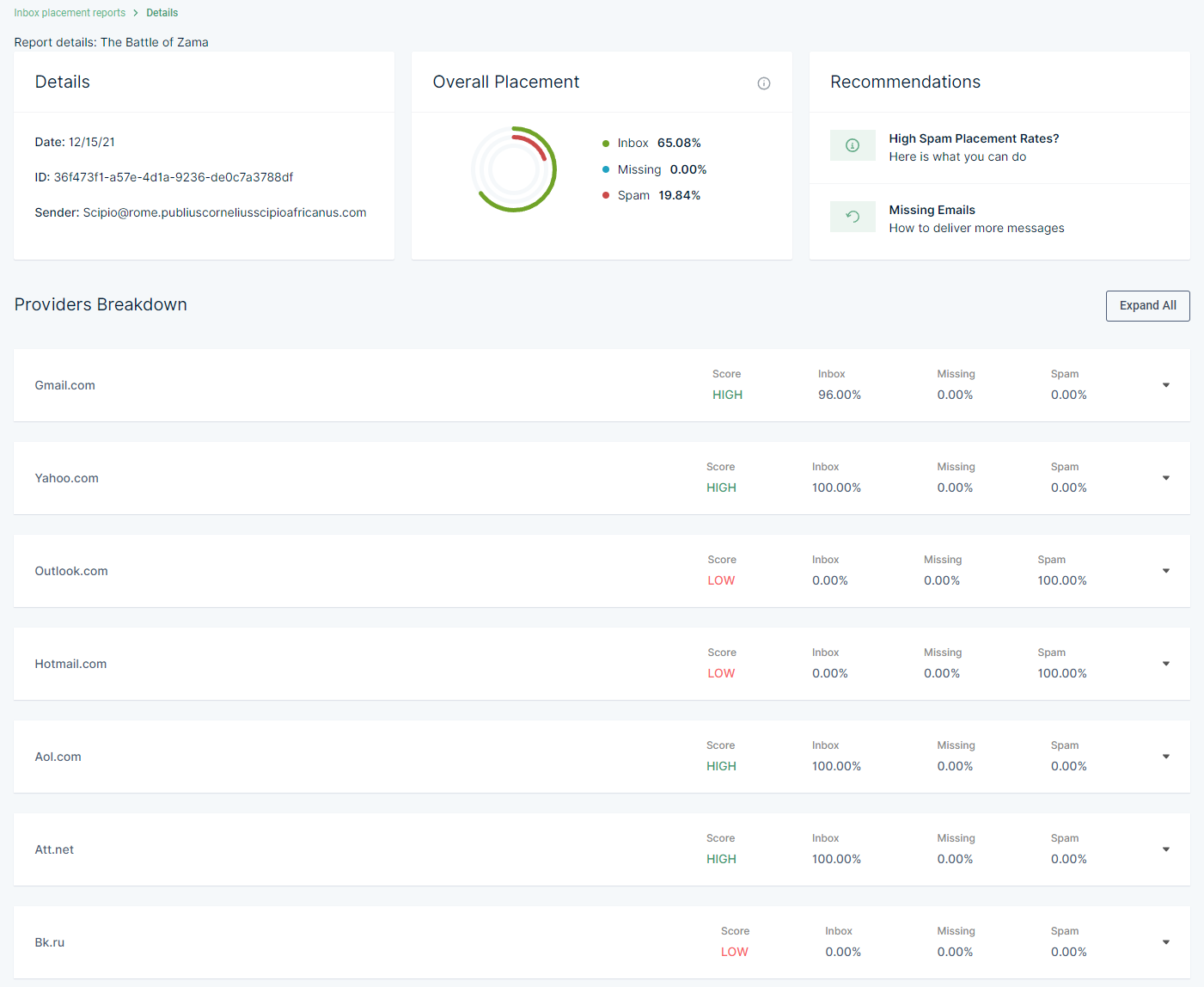 Got Questions?
Sinch Mailgun has answers! If you have any concerns or questions, please send us a Support ticket using the Support page within your Mailgun Control Panel. Our Support Team will be happy to assist!