Our Statistics Dashboard (stats for short) provides a quick and easy way to slice and dice your sending metrics the way you want and view reports in both a graphical and tabular representation, as well as the ability to export the tabular data to a CSV.
By default, the Statistics Dashboard aggregates all sending metrics at the account level, with a default date/time range of last 24 hours.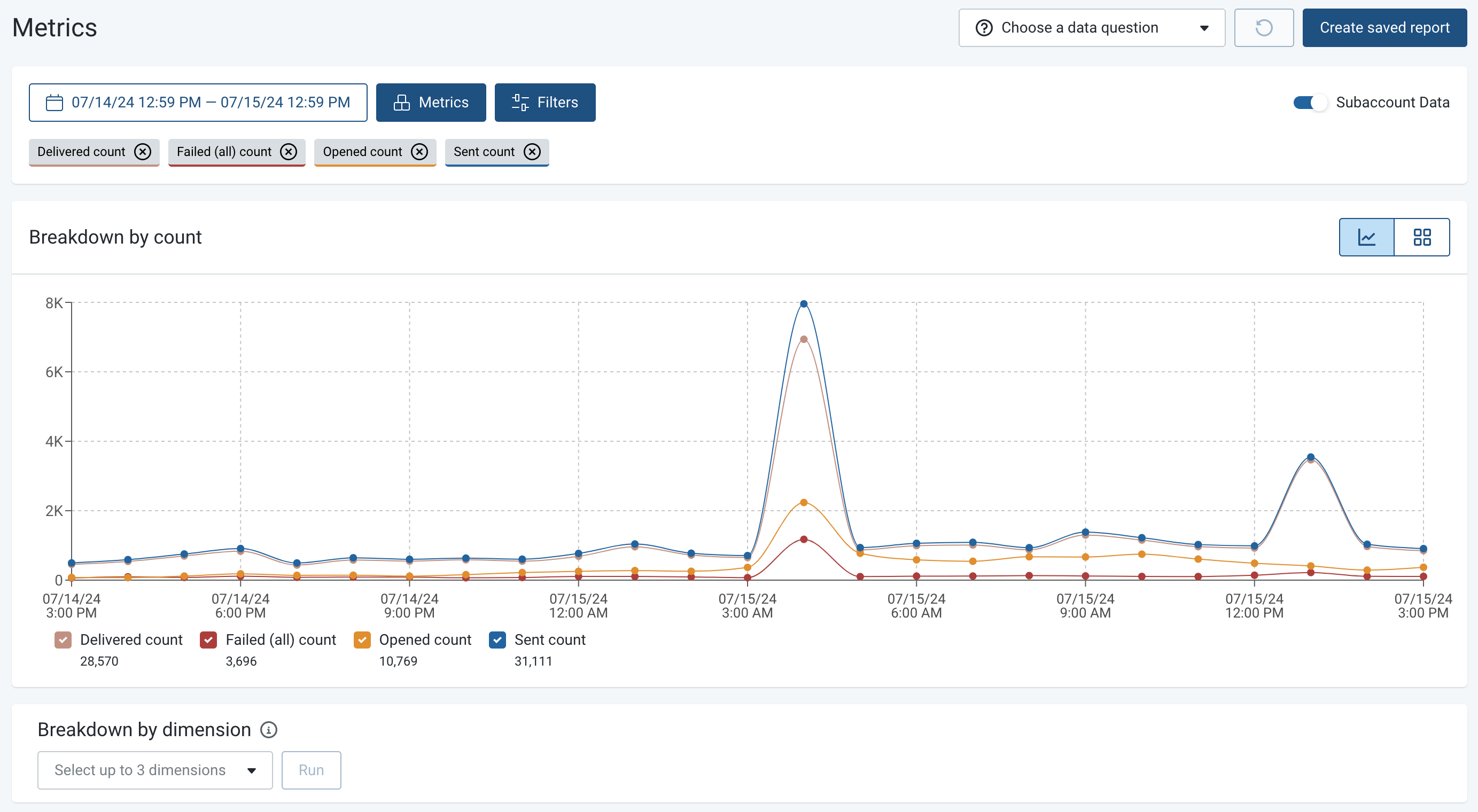 Region
It's important to note that we keep stats for domains in our EU infrastructure separate from stats for domains in our US infrastructure, so if you're not seeing anything show up at first, or don't see all of your domains, make sure you've got the correct Region selected via the region selector: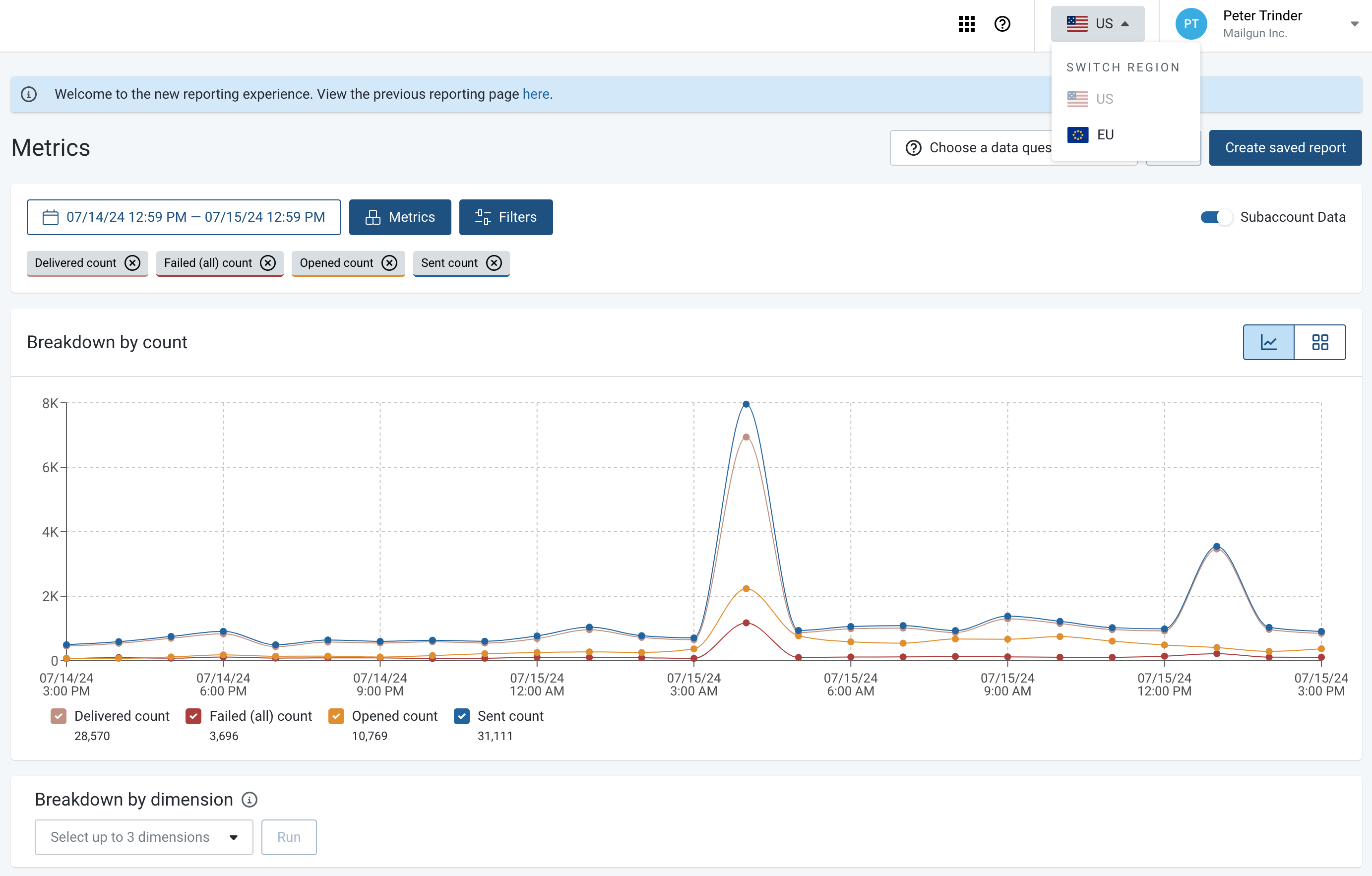 Date/Time range
To change the date and/or time range, click on the date/time range selector and either pick from one of our preset ranges, or choose a custom date and time range: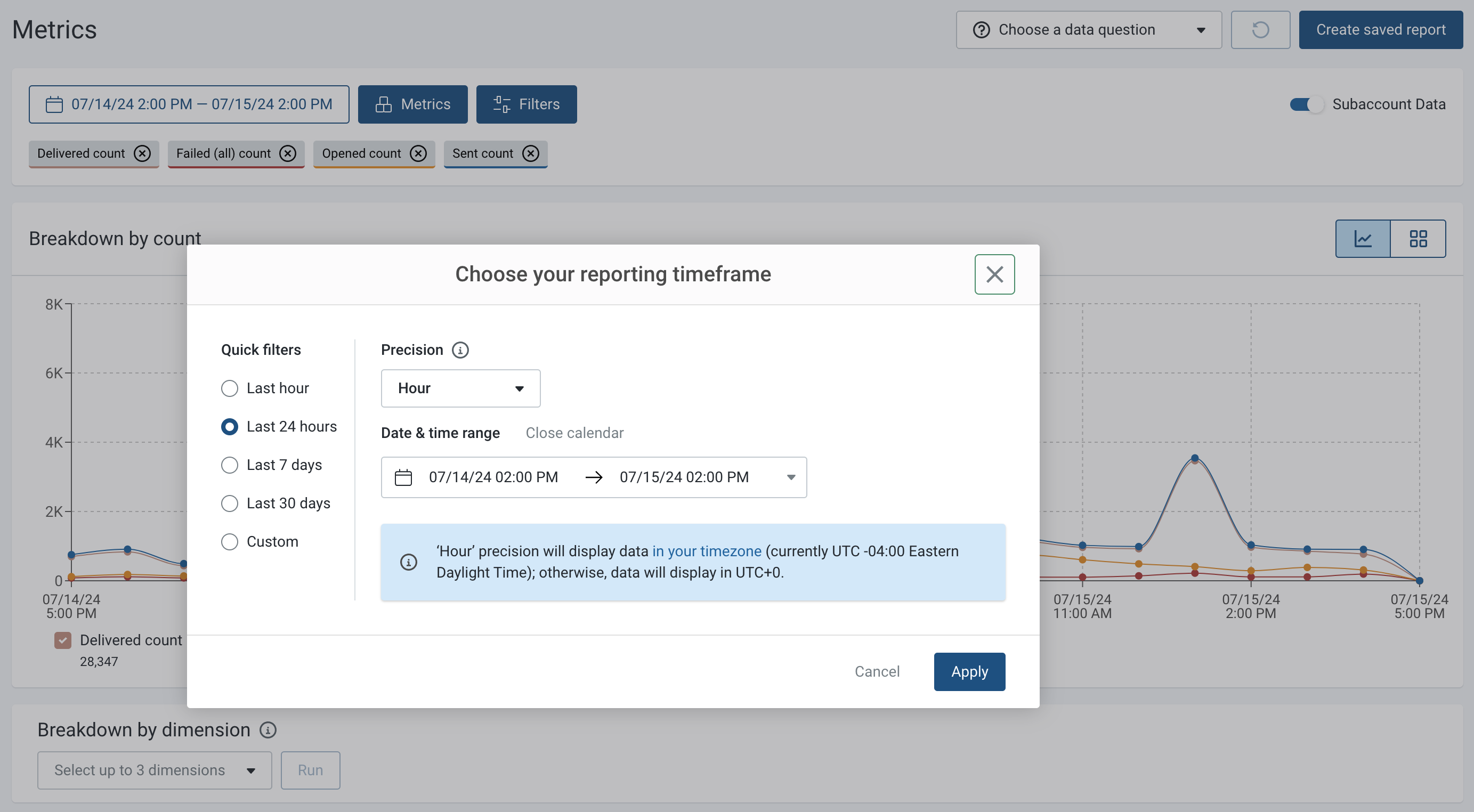 It's important to note the following limitations for stats resolutions:
Hourly stats are preserved for a month.
Daily stats are preserved for a year.
Monthly stats are stored throughout the lifespan of the domain.
Metrics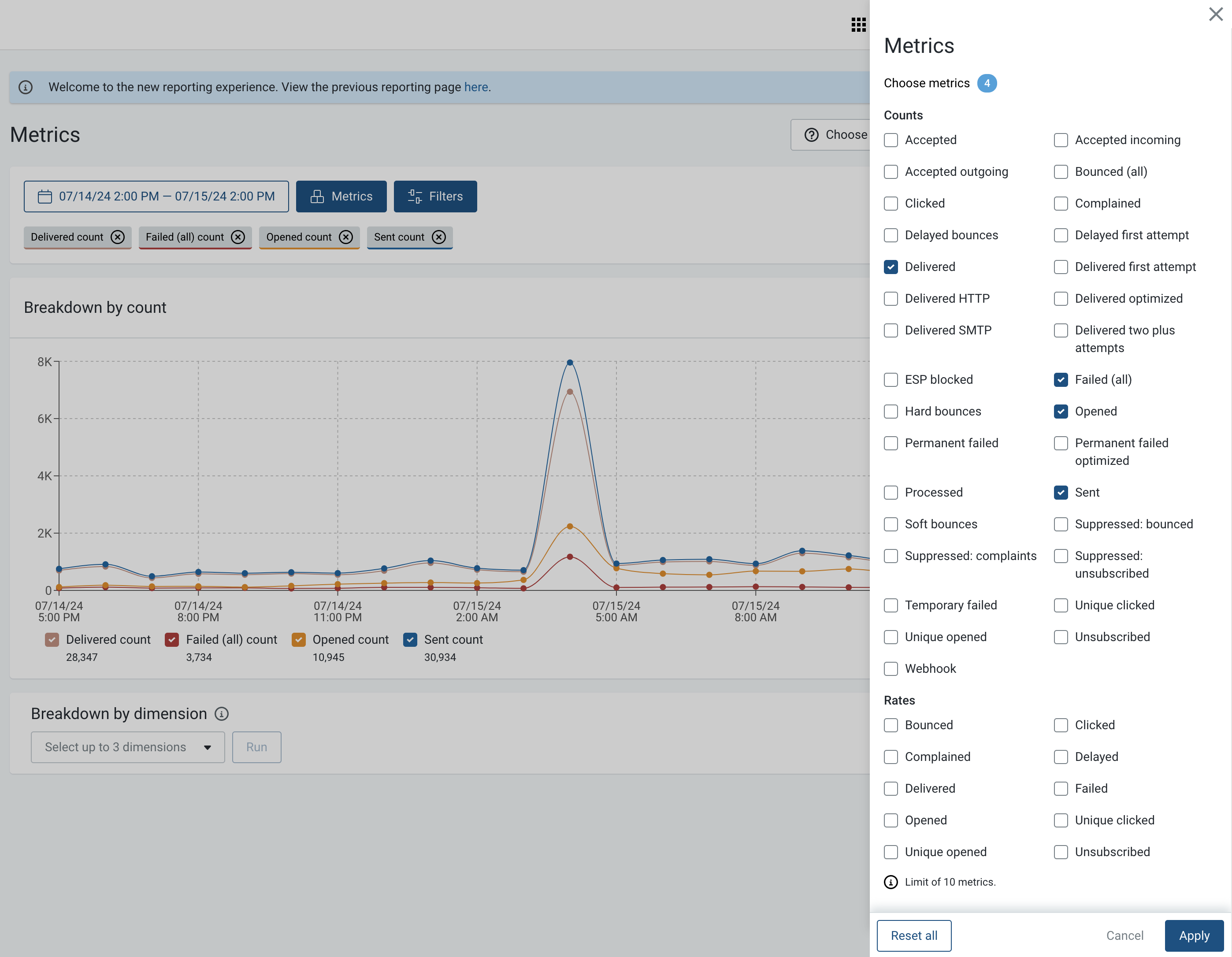 By clicking on the Edit metrics and filters button, you can to choose up to 10 of the following metrics to report on:
Accepted
Delivered
Opened
Clicked
Unsubscribed
Complained
Failed (all)
Temporary Fail
Permanent Fail
Bounced (all)
Hard Bounces
Soft Bounces
Suppressed: Bounced
Suppressed: Unsubscribed
Suppressed: Complaints
As well as the following calculated rates:
Delivered rate
Opened rate
Clicked rate
Unsubscribed rate
Complained rate
Bounce rate
Calculated metrics will be shown in a separate graph: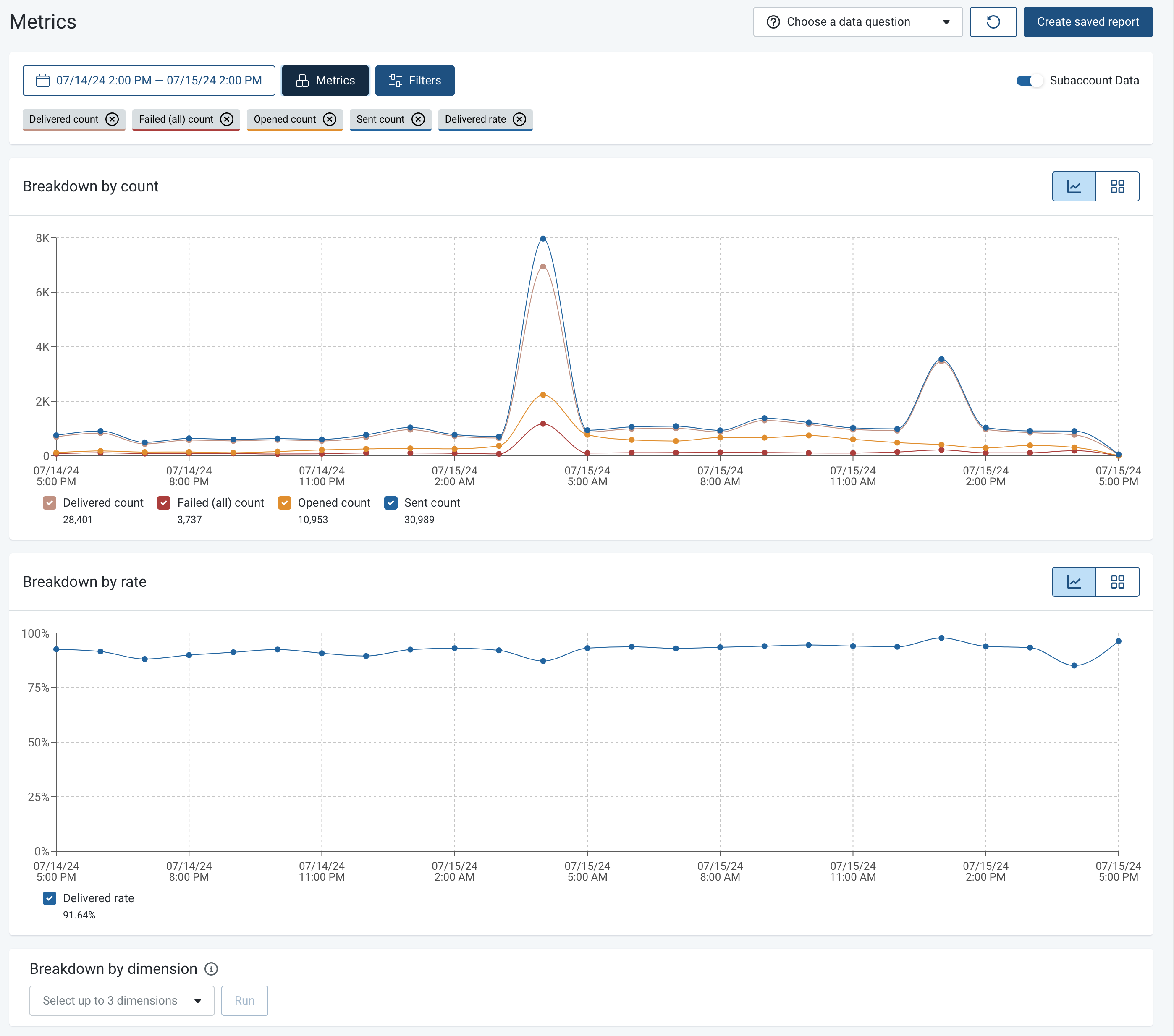 If you wish to hide selected metrics from the graph, simply click on the checkbox next to the metric you wish to hide.
Filters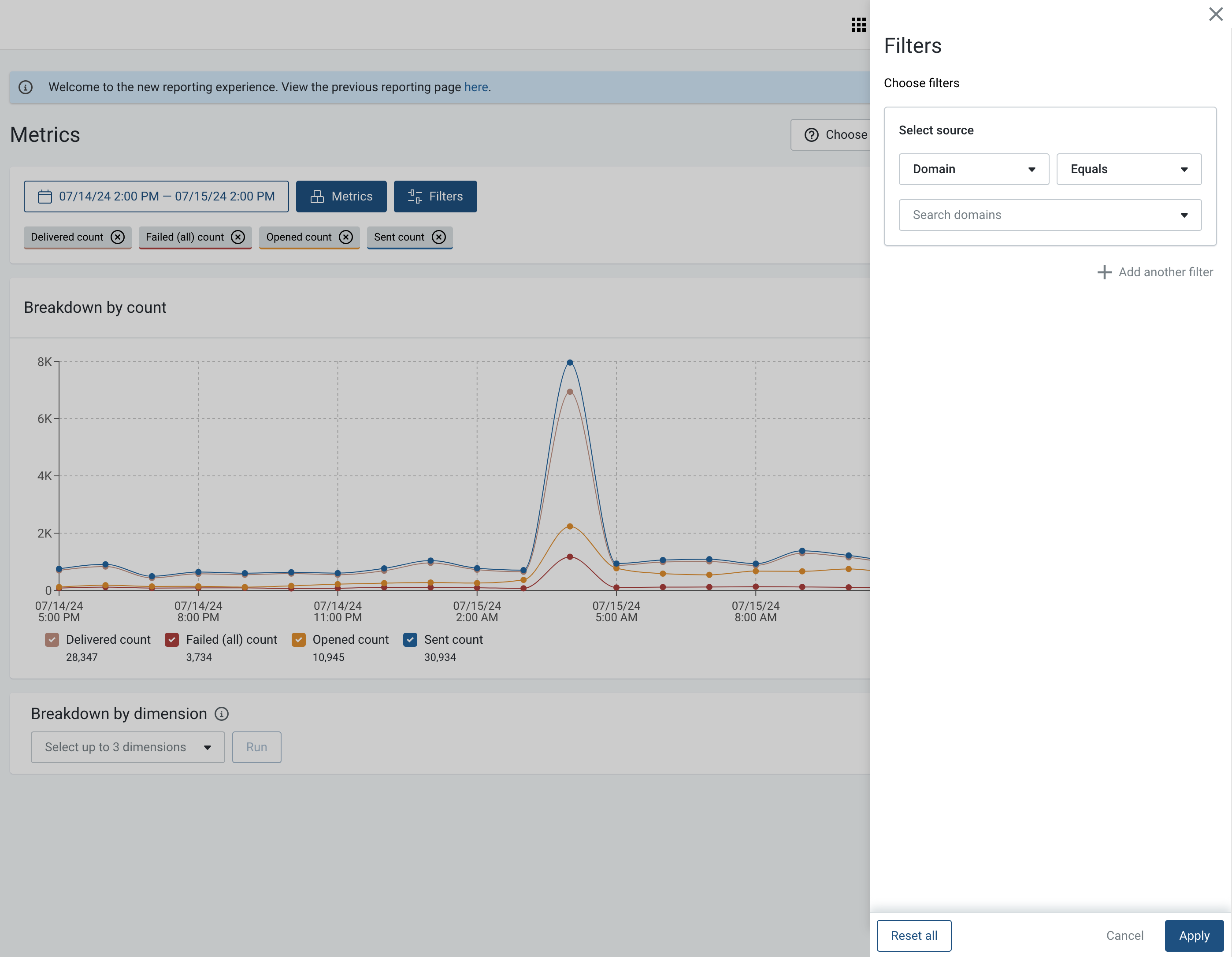 **Note: currently in order to apply a tag filter, a domain name filter is required, and in order to apply a recipient domain filter, a tag filter is required
If you'd like to narrow down your report even further, the following filters are available:
Domain
Tag
Recipient Domain
Groupings
You can also group the data by different groupings to help you visualize your data in different ways. The following groupings are available:
Aggregated total
Date/time
Day
Month
Recipient domain
Sending IP
Sending domain
Export function
By clicking on the Export button on the upper right hand corner of the table, you can export the data in the tabular view to a csv to analyze or share.